A while back somebody showed me (Gareth Barnard) how they had changed the position of the arrows in Collapsed Topics from the left to the right.  So I've thought this could be put in as a setting that would be easy to set just like the rest.
This is a simple modification that will integrate the feature for an easy way for users of the Collapsed Topics to toggle back and forth.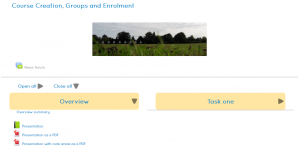 The Project FAQs
Will this be submitted to Moodle.org once completed? Yes.
What version of Moodle will this be for? Moodle 2.5+
Who is Gareth Barnard? Gareth is the maintainer of the Collapsed Topics course format and a contributor to many other Moodle related projects at Moodle.org.